Mail Privacy Protection is finally here, and businesses are starting to notice with overinflated open rates as much as 50%.
What is Mail Privacy Protection?
Apple's Mail Privacy Protection initiative is a privacy system focused to benefit the end-user rather than advertisers by offering a "safe and secure" inbox experience devoid of tracking.
Marketers ruin everything, and the inbox was the first digital domain of the consumer to be bombarded with spam, offers, newsletters, and memes of cats.
Apple, looking to create a better inbox experience has decided to rein in on marketers by making it less profitable to track users from their inbox.
When did it come into effect?
Mail Privacy Protection officially came into effect on September 20th as reported by Litmus.
How does it work?
From Litmus:
"When someone first opens up the Apple Mail app, they'll get a message prompting them to either "Protect Mail activity" or "Don't protect Mail activity" (neither are pre-selected).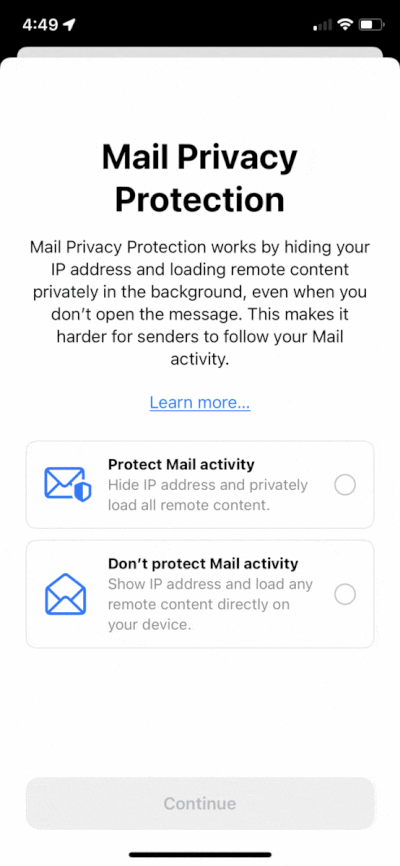 This is not turned on by default. People will have to actively make a choice. (Except, if you happen to not have Apple Mail as your default email client, Mail Privacy Protection will be turned on by default in your settings before you ever launch the Mail app.) Whatever choice is made is then automatically synced to all devices associated with the same Apple ID.
When someone selects the "Protect Mail activity" option, here's what happens: Apple first routes emails through a proxy server to pre-load message content—including tracking pixels—before serving to readers. Even if readers don't actually open those emails.
Expect this to be refined as Apple continues to improve MPP, but right now, the way this works is:
When the subscriber's Apple Mail app starts up, it triggers a download of the email to their device from their email host (e.g., Yahoo or Google).
At indeterminate intervals (could be immediately or could be a couple days later), Apple downloads all of the images in the email, creating a copy of the images to a new location on the Apple Privacy Cache. The download is triggered by a proxy server with an IP address assigned to the general region of the subscriber, masking their specific geolocation. In our testing, subscribers must be connected to a wireless network with the Mail app running in the background for this to happen.
This caching process requires Apple to request the images from the email service provider (ESP)—including the open tracking pixel—which makes the ESP think the email has been opened.
If the subscriber actually opens the email, it triggers a request to download and display the email's images, but instead of coming from the sender's web host or ESP server, they're coming from the Apple Cache. So, you won't see the real open.
How many of my subscribers will be affected?
According to Litmus, as much as 49% of your subscribers will be affected by MPP. This could see your open rates inflate significantly assuming the majority of Apple users turn on the feature.
Remember, MPP will track every received email as an open. So you'd see more opens than normal. For every IOS user, you will get a tracked open.
So, now what?
If there is one constant in life, it's that marketers will find a way to exploit the system. But until that day, you should make the shift to relying on other key performance metrics and phasing out open rates.
The most important metric to focus on now is Clicks and understanding where and what people click on in your emails. Understanding these engagement behaviors can help improve your email structure and overall engagement with your content.
Groundhogg provides a comprehensive report of the number of clicks on specific links in your emails so you can see the full picture.
Is this the death of the open rate?
Yes. Marketers have been chasing open rates for years at the expense of, well, everything else.
But in truth, open rates mean very little to the bottom line for most small businesses, ours included. What?!
For most of us, open rates don't pay bills. I've sent emails that received a 50% open rate but generated $0. I've sent emails with 5% open rate and generated thousands of dollars in a few minutes.
If we stop chasing open rates, we can focus on things that matter like our offer, quality content, and sending the right deal at the right time to the right people. We can specifically target leads and customers on our list to receive specific marketing messages in smaller numbers rather than sending massive generic broadcasts.
This will force marketers to start sending better emails, and I think that's a win for everyone.